FAEMI - Ì
Photo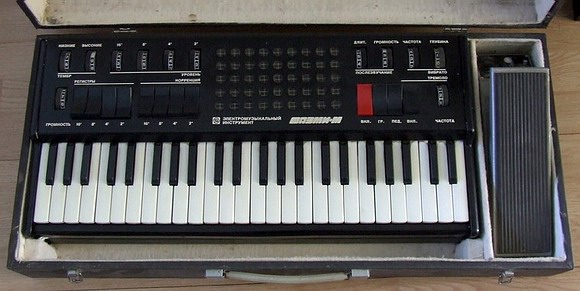 Description
FAEMI-M is a transistor portable polyphonic electromusic instrument. A performer can change the timbre using knobs and the switchers of sound synthesis control. It is possible to mix the sounds of one or several octaves, which enables a performer to change the timbre smoothly and to obtain sounds characteristic for various genres, such as folk, pop, and classical music, and for organ works. Faemi-M provides the possibility of the rapid change of the sound character with the help of such effects as frequency vibrato, tremolo, and release.
Faemi-M can be used both at home and in music ensembles. It can be used as an accompanying or a solo instrument, depending on the will of a performer. The power can be applied from the mains or from the internal battery of dry elements. The volume control is carried out with the help of a pedal and the respective knob on the case of the device. The case is made of light alloys and covered with artificial leather. The upper panel is covered with a coat of enamel.
In the lower part of the case, there are 12 openings, providing the access to oscillator frequency adjustment controls. On the rear panel of the case, there are plug-and-sockets for the following connections:
of the device to an external amplifier and for recording without a microphone;
of an external loudspeaker or telephones;
of a pedal;
of an external power source.
In the pedal, there is a built-in rectifier, which makes it possible to use AC mains as a power source.
Specifications:
Keyboard volume - 4 octaves.
Full sound range (all the registers are switched on) - from F in the controctave to E in the fifth octave.
Output voltage at the load of 100 kOhm - not less than 0.1 V.
Power supply:
-from AC mains - 220 V+\- 10%;
-from an external DC source - 12 V +10\-20 %;
-from the battery of dry elements (373 or others) - 8 elements.
Power consumption from AC mains - not more than 15 W.
Current consumed from the battery of dry elements - 350 mA.
Overall dimensions - 610*280*110 mm.
Weight - not more than 10 kg.
Engineer: Vladimir Lugovets, designer: Alla Tarasova, produced by Urals Vector Company.
Photo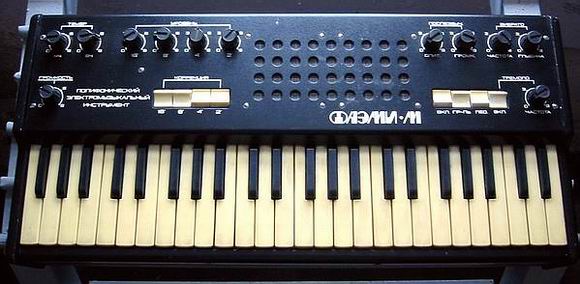 Faemi-M | Manual | Schemes