Formanta P-432
Photo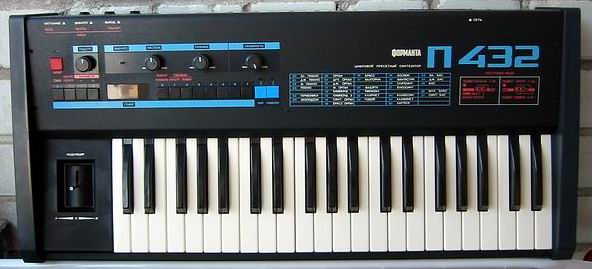 Description
FORMANTA P-432 is a polyphonic digital preset synthesizer designed for both solo and ensemble performance. It has a 3-octave keyboard, 32 timbres and 4-voice polyphony. UNISON and CHORUS effects are available. Sound modulation parameters: VIBRATO (with variable frequency and depth), tune adjustment and a joystick for controlling modulation and pitch in the real-time mode. A foot pedal is provided for switching on/off SUSTAIN and VIBRATO parameters.
The synthesizer has a two-digit display for representing a preset number and some other system parameters. In Formanta P-432, a standard MIDI protocol is used, making it possible to select any one of the 16 MIDI channels and to control the MIDI program change. On the rear panel, the following connectors are situated: MIDI IN/OUT/TRANSIT(THRU), LlNE OUT and SUSTAIN/VIBRATO PEDAL INPUT (standard jacks).
The presettable timbres are the following: el.piano, jz.piano, f.piano, harmonica, accordeon, organ, pipe organ, jz.organ, f.organ, hammond1-2, synth organ, brass org., brass, trumpet, flute, piccolo, clarinet, oboe, cosmic, fantastic, slapsynth, blusesynth, klavecin, klavinet, harpsi, el.bass, jz.bass, bass, mus.box, synth.box.
Engineer: Alexander Reunov, designer: Andrey Petukhov, produced by Formanta Katchkanar radio plant.
Photo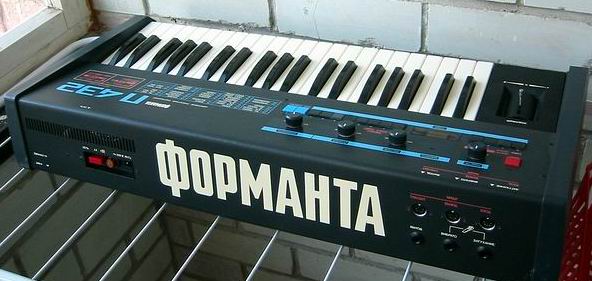 Photo